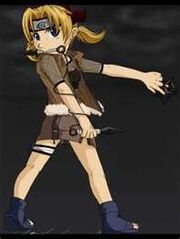 &nbsp
Temmaru is the daughter of Shikamaru Nara and Temari of the Sand. She is a chunin on Team Moegi, along with her teammates, Chiba Inuzaka and Ni-Ni Uzumaki.
Temmaru

Gender

Female

Age

12(PT. 1) 16(PT.2)

Family

Shikamru Nara and Temari of the Sand

Team

Moegi

Partners

Chiba Inuzaka and Ni-Ni Haruno

Affiliation

Konohagakure
Appearance
Edit
Temmaru wears fishnet on her shoulders and a jacket. Her forehead protector is on her forehead, and the ribbon is a dark red. She also wears a skirt with black shorts underneath. Temmaru inherited her mother's hair color and her father's skin complexion.
Personality
Edit
Temmaru is alot like her mother when she was younger. She's brash, unpredictable, but when she's calm, she has Shikamaru's genius. Luckily, she is not as lazy as her father. She is rather rude to her teammates, especially Chiba for being a male medical-nin. Ni-Ni often helps Chiba out by sayin', "Hey Temmaru!!! How would you heal yourself without Chiba's help??"
Abilities
Edit
Temmaru is highly skilled in ninjutsu and genjutsu. She specializes in the Shadow Techniques of her father, and weapons come easily to her as well. She favors kunai and shuriken above most knives and swords. She is fierce in battle, and Team Moegi is a force to be reckoned with.